Two UFO witnesses about 1,200 miles apart seemed to describe the same triangle-shaped object in reports two hours and two time zones apart on April 27, 2013, according to testimony from the Mutual UFO Network (MUFON) witness reporting database.
At about 9:59 p.m. ET, a Tennessee witness driving west along Highway 70 near Pleasant Hill reported watching "a large, triangular-shaped" object hovering over power lines in MUFON Case 47032.
The witness was returning from a grocery shopping trip in Crossville when the object appeared just above the vehicle.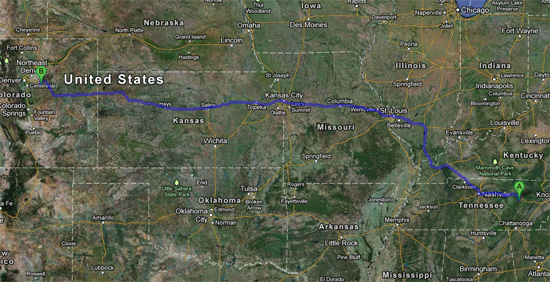 Image: Google Map showing the 1,200-mile journey between Pleasant Hill, TN, (A) and Arapahoe County, CO (B).
"I noticed a large triangular type shape with a big lit circle in the middle of it," the witness stated. "The light was several feet across and was illuminated with white light. The object looked dark gray as far as I could tell and the shape was triangular but with curves. I figured it must be a UFO to be just hovering like that over the power lines."
The witness drove directly under the object.
Read more :http://www.huffingtonpost.com/roger-marsh/witnesses-1200-miles-apart_b_3179709.html