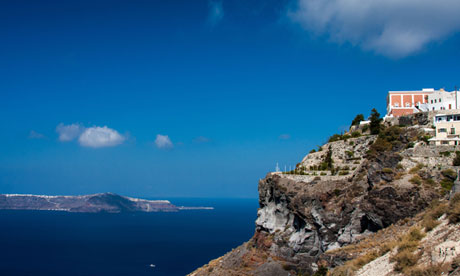 Santorini, where the couple took a holiday. Photograph: Gerardo Borbolla /Alamy
The smouldering row surrounding the future regulation of the press reignited yesterday when it emerged that two key lawyers on different sides of the Leveson inquiry went on holiday together before it had made its recommendations and are now in a relationship.
Opponents and supporters of the estimated £6m inquiry waded into battle over the importance of the revelation, with even the head of the inquiry, Lord Justice Leveson, forced to issue a statement.
The highly unusual intervention followed the revelation that Carine Patry Hoskins, a junior counsel for Leveson, who was involved in drafting legal correspondence between the inquiry and individuals and organisations that gave evidence, and David Sherborne, who represented the actor Hugh Grant and several other notable phone-hacking victims, went to the Greek island of Santorini last August, just days after the inquiry's public hearings concluded.
The two lawyers insist that their relationship did not begin until after the Leveson report, recommending the statutory regulation of the press, was published last November. They told friends that they went on holiday to Santorini only to "discuss the possibility of a future relationship"
READ MORE:http://www.guardian.co.uk/media/2013/apr/21/scandal-leveson-lawyers-romance