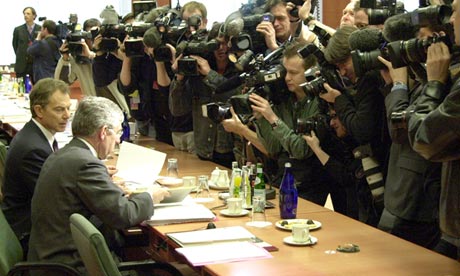 Tony Blair and foreign secretary Jack Straw face the media two days after the Iraq invasion began in March 2003. Photograph: Ho/Reuters
The government has vetoed an order by the independent freedom of information watchdog to release the minutes of cabinet meetings held immediately before the invasion of Iraq in March 2003.
The decision was announced on Tuesday by Dominic Grieve, the attorney general, the only minister to have access to papers of a previous administration, in this case Tony Blair's Labour government.
Grieve said he issued a certificate under the Freedom of Information Act vetoing disclosure after consulting former Labour ministers, his cabinet colleagues, and the leader of the opposition, Ed Miliband.
He described the case as "exceptional" and one where, in his view, the public interest demanded the papers should be kept secret. He says he took into account "serious potential prejudice to the maintenance of effective cabinet government".
The attorney said he also considered the fact that "the issue discussed was exceptionally serious, being a decision to commit British service personnel to an armed conflict situation", that the issue "remains the focus of both domestic and international interest", and that "Iraq remains very much a live political issue in its own right" with links to the "overall security situation in the Middle East and the perceived link between the terror threat to the UK and military action in Iraq".
Grieve noted that most of those present at the cabinet meetings in March 2003 were still MPs or "otherwise active in public life".
Christopher Graham, the information commissioner, had argued that the "exceptional gravity and controversy" of the matters discussed meant that minutes of the cabinet meetings on 13 and 17 March 2003, days before the invasion, should be disclosed.
read more: http://www.guardian.co.uk/politics/2012/jul/31/iraq-invasion-government-documents-secret?newsfeed=true