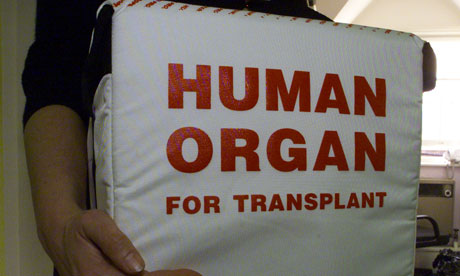 Among the options put forward by NHS Blood and Transplant for consideration is deploying new technologies to preserve organs after removal. Photograph: Graham Turner for the Guardian
The NHS is considering its biggest shakeup of the ethical, legal and professional rules governing transplants, floating ideas to prolong the lives of people who have no chance of surviving in order to harvest their organs, and to make people opt out rather than in to the donor register.
The options are included in a survey of medical, scientific and public opinion to be launched this week to test the boundaries of what might be acceptable, as a precursor to significant reforms.
The survey, on the NHS Blood and Transplant (NHSBT) website from Saturday with a deadline of 21 September, will also suggest:
• Giving priority for transplants to the 19.1 million registered donors in the UK.
• Deploying new technologies to preserve organs beyond the current method of packing them on ice.
• New financial rewards for intensive care units for every organ they provide. Hospitals currently receive about £2,000 per organ to cover their costs, which the NHSBT compares with the €7,000 (£5,500) paid in Croatia.
• Presuming consent unless people have actively opted out.
Read More:http://www.guardian.co.uk/society/2012/jul/27/nhs-organ-donor-optout-transplants