Cameron in angry confrontation with leader of Tory revolt on Lords reform
PM and Tory whips reprimand Jesse Norman, MP who masterminded rebellion over Lords reform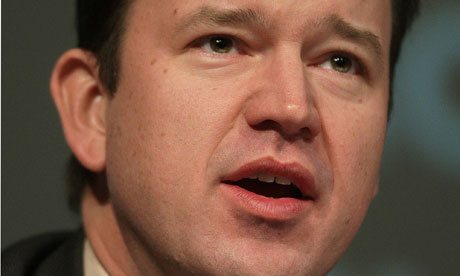 Jesse Norman was told by Tory whips to leave the parliamentary premises. Photograph: Dominic Lipinski/PA Archive/Press Association Images
David Cameron on Tuesday night personally challenged the leader of the Tory rebels who launched a highly effective operation against House of Lords reform, involving unofficial whips, which produced the largest rebellion against the government of this parliament.
Rebel sources said that an angry prime minister confronted Jesse Norman just outside the House of Commons division lobbies as it became clear that scores of Tory MPs would defy a three line whip.
Cameron behaved in a "disgraceful way", marking the return of his "Flashman character", one leading rebel said after the prime minister rebuked Norman as 91 Tories rebelled against the Lords reform bill.
One rebel source said of Cameron, who raised his voice in front of other Tories: "The behaviour of the prime minister was disgraceful. There were a number of colleagues around Jesse. The prime minister expressed his displeasure which really shocked colleagues. All Jesse has done is be a Conservative."
Cameron's anger shows that Downing Street was shocked by the size of the rebellion, which was far larger than the 81 Tory MPs who defied the prime minister last October over an EU referendum.
But No 10 was also concerned that normally loyal MPs, such as Norman and Nadhim Zahawi, had risked ministerial careers on an issue that is highly sensitive for the coalition.
Minutes after the prime minister challenged Norman, the Tory whips sought out the rebel leader to suggest he should leave the parliamentary estate for the night. As he relaxed with fellow rebels in the Strangers' Bar shortly after the vote, four whips entered the bar to ask him for a private word. The whips – Stephen Crabb, Philip Dunne, Bill Wiggin and James Duddridge – were said to have confronted Norman in an even more aggressive manner than the prime minister.
Read More:http://www.guardian.co.uk/politics/2012/jul/11/cameron-clashes-with-lords-reform-revolt-leader?newsfeed=true