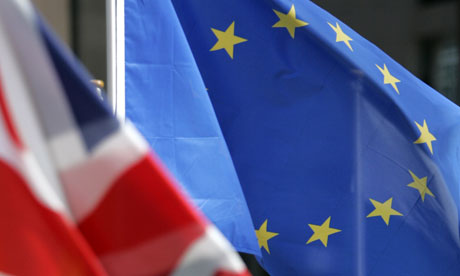 The Open Europe thinktank report hits back at Tory MPs joining the anti-EU Better Off Out campaign. Photograph: Yves Logghe/AP
A British exit from the European Union would pose "unpredictable political and economic risks", the country's leading Eurosceptic thinktank arguesin a report that will have a significant impact on the debate in the Tory party (pdf).
As a growing number of Conservative MPs join the anti-EU Better Off Out campaign, the Eurosceptic Open Europe thinktank hits back by arguing that membership remains "the most beneficial arrangement" for Britain.
The report, seen by the Guardian before publication, says: "From purely a trade perspective, EU membership remains the best option for the UK. All the alternatives come with major drawbacks and would all … require negotiation with and the agreement of the other member states, which would come with unpredictable political and economic risks."
The intervention by Open Europe comes after George Osbornehighlighted how Britain is inextricably linked to the EU when he warned that the crisis in the eurozone is jeopardising economic recovery. "Our recovery, already facing powerful headwinds from high oil prices and the debt burden left behind by the boom years – is being killed off by the crisis on our doorstep," the chancellor wrote in the Sunday Telegraph.
The Open Europe report, by Stephen Booth and Christopher Howarth, endorses Osborne's view as it warns that "economic stagnation" means Britain must do better in exporting to growing markets outside Europe. But the report throws its weight behind continued British membership of the EU as it rejects a series of alternatives advocated by hardline Eurosceptics, who claim Britain could preserve its exports to the EU – 48% of UK goods and services exported go to EU countries – even if it left.
Read More:http://www.guardian.co.uk/world/2012/jun/10/britain-stay-europe-eurosceptic-thinktank-report