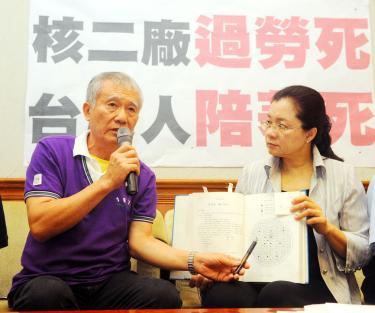 Retired Taiwan Power Co technician Lee Kuei-lin, left, accompanied by Democratic Progressive Party Legislator Tien Chiu-chin, yesterday explains the seriousness of recent accidents at the Guosheng Nuclear Power Plant at the legislature.
Photo: Wang Min-wei, Taipei Times
Cracks of up to 30cm have been found on the core shroud of the No.1 reactor at the idled Guosheng Nuclear Power Plant in Wanli District (萬里), New Taipei City (新北市), an Atomic Energy Council official has confirmed.
Civic groups yesterday warned against reactivating the plant.
In addition to unsettled concerns about cracked anchor bolts at the reactor, Green Consumers Foundation chairman Jay Fang (方儉) revealed that two cracks were found on welded parts of the core shroud, which Fang said could lead to disaster if the reactor is reactivated without repairs.
Deputy Director of the Atomic Energy Council's (AEC) Department of Nuclear Regulation Chen Yi-pin (陳宜彬) was quoted by the Chinese-language Liberty Times (the Taipei Times' sister newspaper) yesterday as having confirmed on Sunday that the two long cracks were discovered during routine checkup and maintenance in March.
The core shroud is a large cylinder of circumferentially welded plates made of stainless steel, surrounding the reactor fuel core, which is composed of fuel rods assembled into bundles.
Read More:http://www.taipeitimes.com/News/taiwan/archives/2012/06/19/2003535744