TAKE A GOOD LOOK AT THE TITLE PEEPS!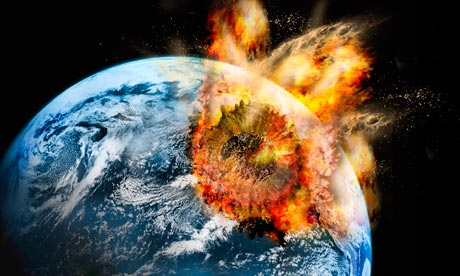 Ministers are terrified of being hit by the euro asteroid. Photograph: Mike Agliolo/Corbis
Among the British political class, especially those of them with an expensive education, an interest in Greek democracy used to mean you had studied Pericles. Not now it doesn't. Today's Greek election is probably the most crucial in that country's modern history and will certainly be the most watched in Britain. Politicians, policy-makers and opinion-shapers who would normally stay up for an election in another country only if it was for the American presidency will be delaying their bedtimes for the results from Athens.
For one group of people, this is a lip-smackingly exciting moment. The most euro-hostile wing of the Conservative party hopes the Greeks will bring on the climactic existential crisis for the eurozone. For a certain kind of right-wing Tory, the most desired outcome is victory for the Greek far leftists who reject the terms on which their country has so far clung to euro membership. The collapse of the entire currency would follow – or so these Tories hope. That relish at the prospect of Armageddon in euroland is not shared by senior members of the government, Tory or Lib Dem. Their pulses are also raised by this election, but pumping through the veins of the highest reaches of government is fear of the consequences for Britain of a collapse of the euro. That dread is compounded by their lack of power to shape events on mainland Europe
Read More:http://www.guardian.co.uk/commentisfree/2012/jun/17/andrew-rawnsley-greek-elections-euro-crisis