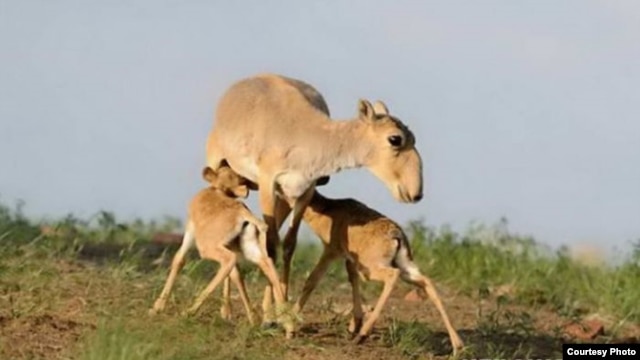 Central Asia's saiga antelope population had only just begun to recover after declining rapidly in the 1980s and '90s.
Did a Soyuz spacecraft cause the deaths of hundreds of endangered saiga antelope in Kazakhstan this week?
Some ecologists think so, although scientists and the Kazakh authorities remain skeptical.
Officials say the carcasses of at least 543 saiga antelope have been found in northern Kazakhstan's Qostanai region since May 21, the latest reported mass death of the critically endangered animal.
And the fact that some 120 of the carcasses were discovered near the village of Sorsha — the same location where a Soyuz capsule carrying a Russian-American crew from the International Space Station landed in April — has sparked suggestions the animals may have been poisoned by chemicals left behind by the craft.
Likewise, in an interview with RFE/RL's Kazakh Service, ecologist Musagali Duambekov suggested that the mass deaths could be connected to the Baikonur space-launch site in central Kazakhstan.
"My personal opinion is that it is connected with human activity [and] that it is due to an anthropogenic factor," he said. "It could be from chemical elements left from space rockets that fly over this place, or from other chemical factors, such as the extensive use of fertilizers, which are very harmful."
Read More:http://www.rferl.org/content/saiga-antelope-deaths-spacecraft-forage/24589539.html