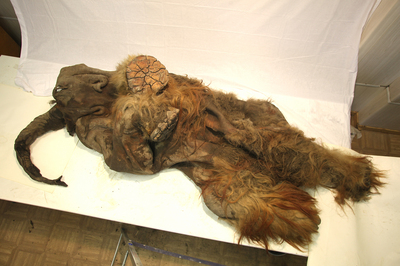 The person discovered that the tusk was actually attached to a young Woolly Mammoth, estimated to be between 10,000- and 30,000-years-old, that had been nearly perfectly preserved in the icy, frozen ground near the shores of the Arctic Ocean in Northern Asia.
It turns out the treasure discovered was worth much more than money: It can provide answers. Real, concrete answers on what contributed to the extinction of mammoths.
"This is almost like nothing else that we have ever seen before," said University of Michigan paleontologist and researcher Daniel Fisher, who is helping other scientists investigate the carcass.
According to Fisher's research, just three preserved mammoth carcasses have been discovered in the past decade.
"This is one animal. It's one animal's death but it can give us insight into the kinds of things that were happening in those environments and those times and that can shed further light on the cause of extinction."
Fisher and his crew of 15 excavators, scientists and media specialists —the excavation of the mammoth was funded in part by the BBC and Discovery Channel, which filmed the process— spent a week in late February and early March investigating the mammoth carcass, which they named Yuka because it was discovered in the Yakutia region of northern Siberia.
Read More:http://www.annarbor.com/news/university-of-michigan-paleontologist-assists-in-discovery-of-near-perfectly-preserved-woolly-mammoth/