American Fascism did not start with World War II. Before Operation Paperclip, the codename under which the US intelligence and military services extricated scientists from Germany, during and after the final stages of the conflict, the annals of internal despotism were well established. With the open door policy for German engineering, the political ideology of state worship was bound to travel across the Atlantic.
Do not be confused. National Socialism is an abhorrent notion to most Americans. Nevertheless, the political foundation of that false ideology is based upon pure Fascism forged in a marriage of the Corporate/State that produces this demented offspring. The systematic destruction of the essential purpose and motivation for the American Revolution is undeniable with any objective examination of the regretful legacy of domestic tyranny.
This record of monocracy is one of a criminal class, as opposed to the iron fist of a single man. If you belief this is an erroneous assessment, consider the following chronicle.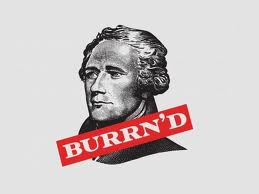 From the beginning of the Republic, the Federalists conspired for the illegal passage of their central government constitution in order to form a competing world empire with their British cousins. Their leader was Alexander Hamilton, who championed making individual states subservient to the original crony capitalists. When the Father of our Country, George Washington admonished about the dangers on entangling alliances, the world was warned that the drive towards independent liberty was compromised under this new Federal system.
When Andrew Jackson rallied frontier populism against the establishment elites of his era, you had an opportunity to restore some of the former glory of the Revolution of 1776. The conflict over the abolishment of the National Bank symbolizes the eternal struggle that continues to this very day.
The Manifest Destiny of the U.S.-Mexican War demonstrated just how far the country strayed from the fundamental concept of independence from England. The expansionistic campaign had more in common with the Crown than the Boston Tea Party.
The early 19th century fascists looked to their next defender Abraham Lincoln, the lawyer for the railroad corporatist cabal and the worst of all despotic presidents, to complete the task.
Mark Dankof cites Thomas DiLorenzo's work in the article, Lincoln in Fort Sumter, False Flags, and The Empire's Coming Crusade.
Myth #1: Lincoln invaded the South to free the slaves.